EyePromise® Partners with the PGA of America for Their Golf Retirement Plus Program
Posted by EyePromise on Dec 14th 2022
Partnership aims to help preserve, support, and improve eye health for PGA Professionals on and off the course
EyePromise, the industry-leading line of eye vitamins formulated to help preserve, support, and improve vision and eye health, has announced a partnership with the Professional Golfers' Association of America (PGA) and the organization's Golf Retirement Plus Program. Already used by many PGA TOUR golf professionals, including three-time Major winner and 2022 U.S. Senior Open champion Padraig Harrington and eight-time European Order of Merit Champion and World Golf Hall of Fame golfer Colin Montgomerie, EyePromise Vizual Edge™ Pro has helped golfers improve their visual performance, read the greens better, reduce light and glare sensitivity, and ultimately improve their overall eye health.
The Golf Retirement Plus™ Program
Founded in 1997, Golf Retirement Plus is a supplemental retirement program for PGA members and apprentices. The program aims to assist PGA Professionals in identifying and achieving their retirement savings objectives. It allows its members to make their own contributions or have their employers contribute to a Golf Retirement Plus account on the PGA member's behalf. PGA Professionals may also earn personal incentives by participating in Golf Retirement Plus Sponsor Programs.
Andreas Wolf, President of EyePromise, said,
"We are excited to partner with the PGA on their Golf Retirement Plus Program. Vizual Edge Pro has helped many PGA TOUR Players and PGA Golf Professionals improve their game by keeping their vision sharp over the years. It's been such an honor to listen to the feedback from the golfers about how our Vizual Edge Pro has helped them read the greens better, and ultimately, level up their game. We look forward to hearing about more visual improvements and of course, wins on the green!"
EyePromise Eye Health Performance Supplements
Since 2001, EyePromise, the ocular nutrition pioneer, has been providing athletes, doctors, and the everyday individual with natural eye vitamins to help maintain and support better vision against age-related eye health issues, irritated dry eyes, and even the effects of screen time. EyePromise is NSF Contents Tested and Certified, and its Vizual Edge™ line is NSF Certified for Sport® and specifically formulated to meet the needs of high-performance athletes. The science behind the supplements demonstrates that eye-friendly nutrients such as zeaxanthin and lutein work together to build the macular pigment, a protective layer within the eyes that's responsible for crisp, clear vision and overall eye health.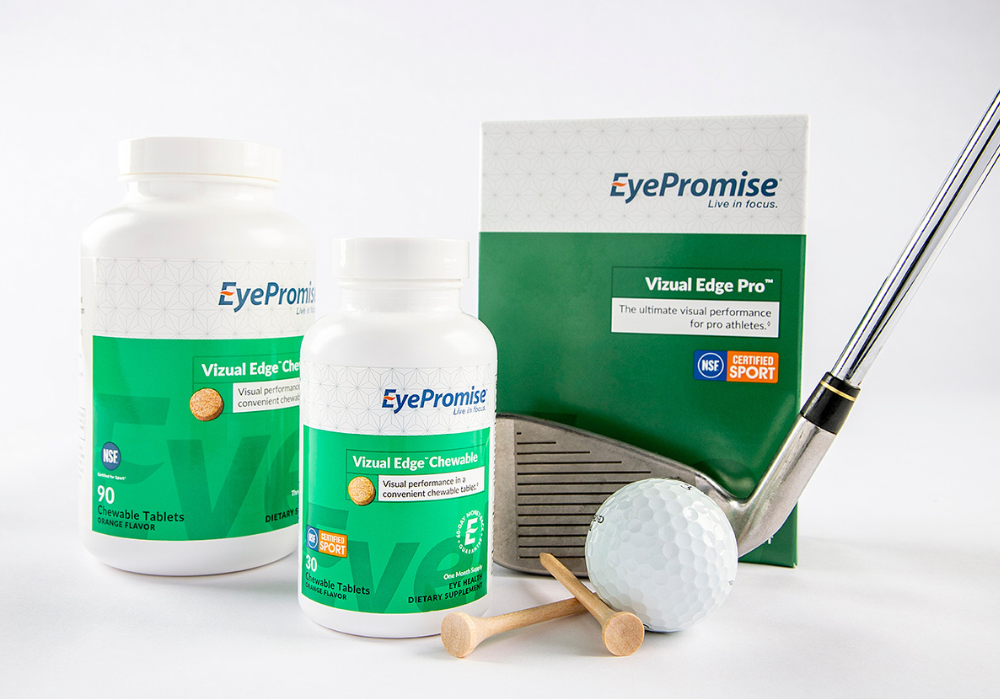 Dan Baker, Senior Director, Industry Partnerships at the PGA of America, said,
"We are excited to welcome EyePromise to our Golf Retirement Plus Program. Professional athletes, TOUR Professionals and PGA Golf Professionals have used and recommended the product. EyePromise has come up with an attractive offering and program for PGA Professionals to purchase Visual Edge Pro for themselves as well as offer the product to their customers."
In addition to the PGA, EyePromise is trusted by several major league sports organizations, including the NFL, NHL, and NCAA and has been the Official Eye Vitamin of the Boston Red Sox for three consecutive years.
As EyePromise looks to continue their growth in golf, teaching pros may request complimentary samples by contacting sgierhart@eyepromise.com.