2022 U.S. Senior Open Champion and 2020 European Ryder Cup Captain Padraig Harrington Attributes EyePromise® to an Improvement in His Vision, His Confidence and His Game
Posted by EyePromise on Aug 10th 2022
#1 Eye Doctor Recommended line of Eye Health Vitamins used by NFL, NHL, and MLB help U.S. Senior Open Champion improve his putting
As with other sports, PGA golfers and coaches are always looking for the most effective health, fitness, recovery, andnutrition regimes. Fifty-year old Padraig Harrington is one of those golfers who is dedicated to his training, recovery, and nutrition. Similar to other golfers, Harrington underwent laser eye surgery years ago to help improve his game, but it was not until he discovered EyePromise, the industry leading line of eye vitamins formulated to help improve vision and support eye health, that he truly "saw" a difference. After his recent U.S. Senior Open victory in June and his second-place finish at The Senior Open in Scotland in July, Padraig explained his enhanced self-assurance whilst putting.
"Putting comes down to confidence, and as I got older, I was struggling with reading the greens. I was introduced to EyePromise almost 2 years ago, and within 4 months of taking the eye vitamins, I could pick up the change in contrast of the greens much better. This gave me more confidence in reading the putts, and my stats began to improve. Two years later, I genuinely feel that taking EyePromise vitamins has helped me."
What Does Padraig Take?
Since 2001, EyePromise, the ocular nutrition pioneer, has been providing athletes, doctors, and the everyday individual with natural eye vitamins to help maintain and support better vision against age-related eye health issues, irritated dry eyes, and even the effects of screen time. EyePromise is NSF Contents Tested and Certified and has the Vizual Edge™ line that's NSF Certified for Sport® and specifically formulated to meet the needs of high-performance athletes.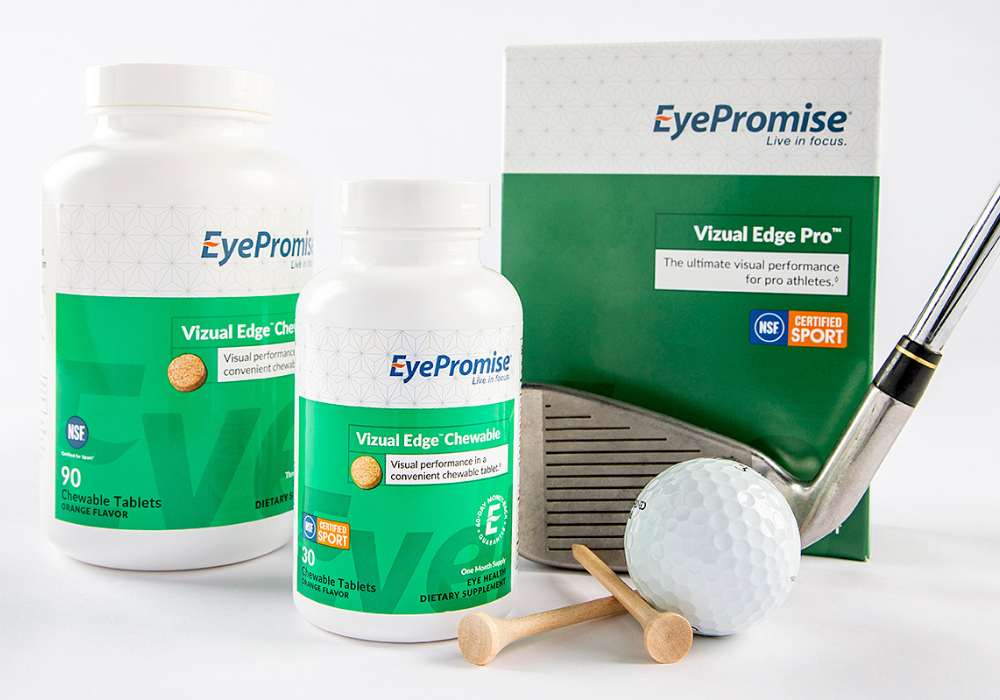 This line delivers high-quality natural ingredients to improve visual performance, processing speed, and reaction time and reduce glare sensitivity. The science behind the supplements demonstrates that eye-friendly nutrients such as zeaxanthin and lutein work together to build the macular pigment, a protective layer within the eyes that's responsible for crisp, clear vision and overall eye health. Harrington takes Vizual Edge Pro, a part of the Vizual Edge line, the best of the best of EyePromise, and the most elite eye vitamin formula available.
Why EyePromise?
Dr. Dennis Gierhart, co-founder of EyePromise, pioneered the use of dietary zeaxanthin for eye health with over 30 years of scientific nutrition research and clinical studies. Zeaxanthin, a highly potent antioxidant found in brightly colored fruits and vegetables, is responsible for healthy central vision and overall eye health but is very scarce in the diet. The average American consumes less than 1mg of zeaxanthin per day compared to the 20mg used in clinical research for optimal visual performance. EyePromise is the only line of eye vitamins that contain these high levels of high-quality dietary zeaxanthin.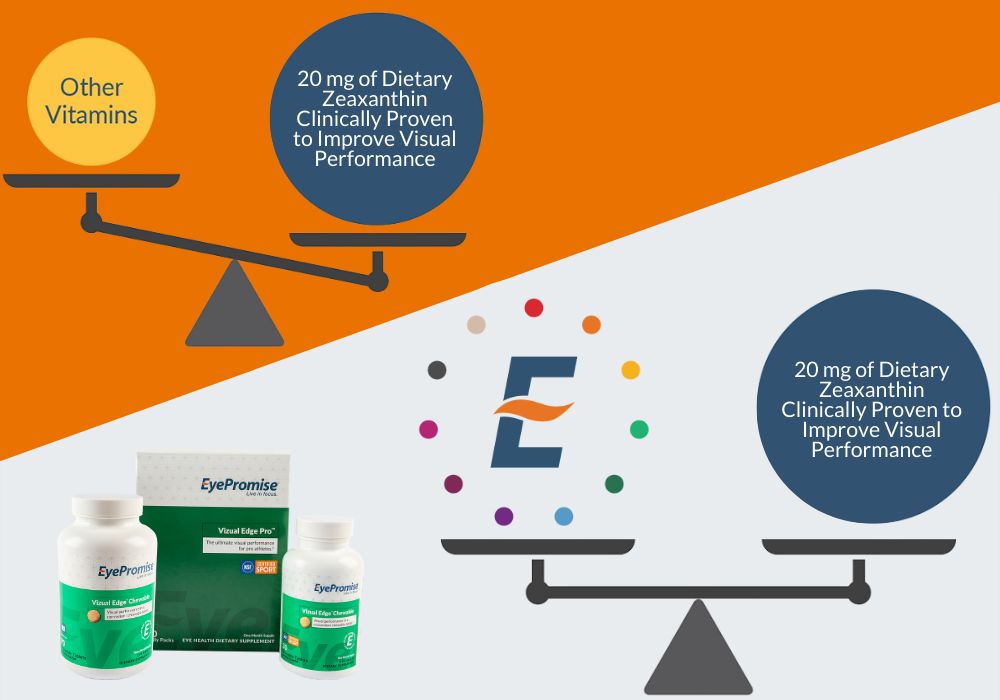 Andreas Wolf, President of EyePromise, shared:
"We are so proud of Padraig's recent successes and love to hear that both his vision scores at the doctor and putting stats have improved. It has been an honor to work with Padraig, and it's motivating to listen to his feedback on Vizual Edge Pro, explaining to us how much it has helped him sharpen his vision, feel relief from fatigued eyes, and ultimately help improve his game. We look forward to continuing to help Padraig maintain healthy eyes and keep the wins coming!"
EyePromise is used by golf teaching pros worldwide. As EyePromise looks to continue their growth in golf, teaching pros may request complimentary samples by contacting sgierhart@eyepromise.com. Learn more about how eye health improves sports performance here.