EyePromise® Is Going to the PGA Merchandise Show!
Posted by EyePromise on Jan 25th 2023
The new year is a great time to reassess priorities and set new goals. One of our New Year's resolutions is to continue to grow our support on the golf community. We made some incredible strides in 2022, but we're kicking off 2023 in a big way. This year, we're attending the Professional Golfing Association (PGA) Merchandise Show! Here's why that matters.
What Is the PGA Show?
The 2023 PG Show is being held at Orange Country Convention Center in Orlando, FL, from January 24th through the 27th.The show is a critical motivation point to build excitement about the future of the golf business. It's a chance for PGA Professionals and industry leaders alike to network and learn about, test, and buy the newest products and programs. According to the PGA Show website, capitalizing on the latest and greatest gives attendees the opportunity to "drive more value to their facility, differentiate their shop from competitors, and further their career."
EyePromise® Joins the PGA Show Exhibitors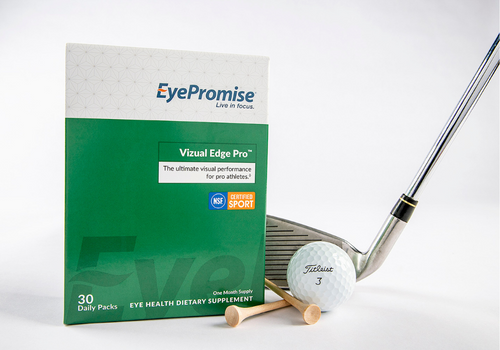 EyePromise is proud to be joining the elite organizations showcasing at the PGA Show this year. EyePromise is the industry-leading eye vitamin line formulated to help protect and improve vision for all athletes, including golfers. Already used by many PGA TOUR professionals, including three-time Major winner and 2022 U.S. Senior Open champion Padraig Harrington, EyePromise Vizual Edge™ Pro has helped golfers read the greens better, reduce light and glare sensitivity, improve their overall eye health, and ultimately boost their confidence on and off the course.
Our booth, #2686, is located by the TPI Wellness Stage in the Fitness and Instruction area of the show floor. We're incredibly honored and excited to have the opportunity to be among so many excellent teaching pros and titans in the golf industry, and we're even more thrilled to be bringing awareness to the power of visual performance for golf. Additionally, we're excited to share that we've developed an exclusive partner program for PGA Teaching Professionals, which will be discussed on the show floor, as well.
Learn From the Best!
World-renowned sport vision expert Graham Erickson, OD, FAAO, FCOVD, is joining EyePromise at the show to help educate attendees about nutrition for visual performance. With over 20 years of experience helping athletes perform through improved vision, Dr. Erickson's knowledge of nutritional intervention and performance are unmatched. You'll have the chance to hear him present on the subject at 4pm on Thursday, January 26th, at the TPI Wellness Stage!
With such a star-studded lineup of presentations and world-class exhibitors, the PGA Show is a can't-miss event. However, you don't have to wait to hear more about EyePromise's exclusive partner program for PGA Teaching Professionals. Click here to read more now!