The 2022 Ascension Charity Classic
Posted by EyePromise on Sep 12th 2022
Once again, St. Louis, MO, hosts a PGA Champions Tour event! The Ascension Charity Classic returns to the renowned Norwood Hills Country Club. EyePromise® ambassadors Colin Montgomerie and Padraig Harrington will be competing in the tournament, and EyePromise will be attending to show our support and educate patrons. Here are the details.
The Ascension Charity Classic
With its first tournament held last year, the Ascension Charity Classic is still new on the Champions Tour. With a huge turnout and exciting play, the tournament was deemed a success and granted another year of competition. The tournament scoring is based on stroke-play and requires 78 golf legends to compete over 54 holes. The $2 million purse is enough to draw a crowd, and the event itself is "designed to showcase the best golf on PGA TOUR Champions for the enjoyment of spectators and to benefit local charities in the greater St. Louis area."
Why Is EyePromise Attending?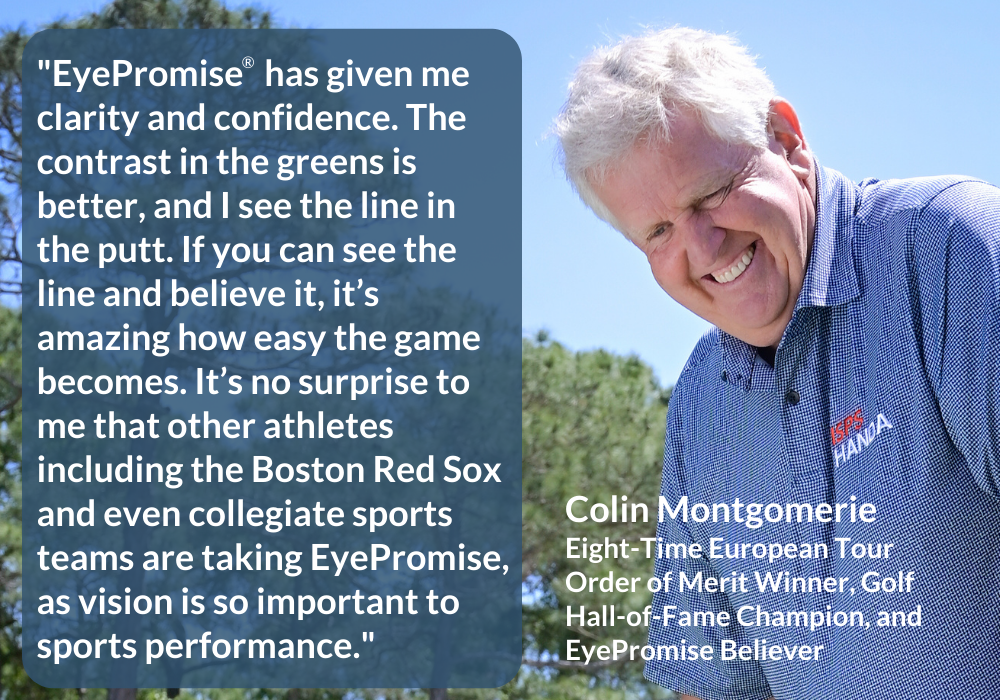 The Ascension Charity Classic is held in EyePromise's backyard: St. Louis! With our headquarters based in Chesterfield and our esteemed ambassador competing, we couldn't pass up the opportunity to get out and meet some of our fellow golf fans. If you're attending the tournament, make sure you stop by the EyePromise tent while you're there! You'll have the opportunity to putt for a variety of prizes and get discounts on EyePromise products you can purchase at the Norwood Hills pro shop (aka: the same stuff the pros take!). Prizes include:
An autographed replica of Padraig Harrington's golf bag
Autographed golf balls by Harrington and Colin Montgomerie
EyePromise water bottle (insulated bottle with leak-proof cap to keep beverages hot or cold for up to 12 hours while fitting in an average cup holder)
If you follow us on Facebook, Instagram, or Twitter, you may have seen that our ambassador, Padraig Harrington, won the tournament! After a close finish, Padraig putted his way to the top spot, earning his third trophy this year! Congratulations Padraig, and we can't see what else you have in store!