Eye Vitamins for Your Whole Family
Posted by EyePromise on May 19th 2023
When it comes to our bodies, our eyes are one of the organs that need the most support. However, they rarely get what they need other than corrective lenses. Nutrition is critical for lasting, healthy vision throughout our lives, and everyone, from grandparents to children, could use a little extra help. EyePromise® offers a comprehensive line of scientifically proven eye vitamins for almost anyone in your family.
Elderly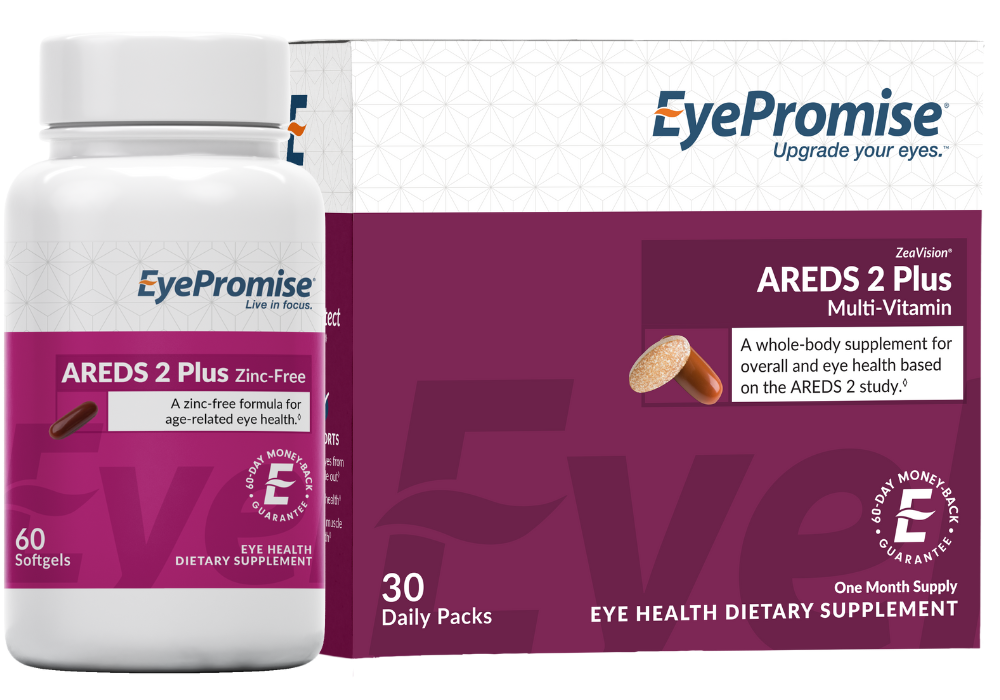 For those elderly family members, we recommend one of our EyePromise AREDS 2 Plus products.
AREDS 2 Plus Multi-Vitamin comes in a 2-pack and includes a standard daily multi-vitamin tablet. The other softgel included delivers the nutrients studied in the National Eye Institute's AREDS 2 clinical trial, which are:
Vitamin C
Vitamin E
Zeaxanthin
Lutein
Zinc
Copper
These vitamins, minerals, and antioxidants are critical for avoiding age-related eye health issues, which is what the AREDS 2 study reviewed. However, there's more to this formulation. It also includes Vitamin D and Omega-3s, ingredients proven to be critical for lasting vision.
AREDS 2 Plus Zinc-Free is the same formulation as the above vitamin minus the multi-vitamin, zinc, and copper. Some people have a genetic reason to avoid zinc, while others get plenty of the mineral in their diet. This product offers these people an option.
Midlife
Midlife can mean many different things to many different people. However, our recommendation remains the same for many.
Restore is the top choice for those 40 and up who want to start supporting their "aging" eyes. As our flagship product, Restore is a great overall eye health formula with ingredients specifically chosen for aging eyes.
Zeaxanthin + Lutein is one of our most basic formulations. It's a great solution for someone looking to support their eyes but are already taking a multitude of other supplements. This product just delivers the two most important antioxidants for healthy vision: dietary zeaxanthin and lutein.
Learn more about these two ingredients and how they support eye health.
Zeaxanthin is the other basic formula we offer. As the name implies, its only ingredient is dietary zeaxanthin. It's another great addition to an already comprehensive supplement regimen.
Learn more about why the type of zeaxanthin in your supplement matters.
It's common for people to be identified with blood glucose concerns when they're over 45 years old. EyePromise offers a formula specifically designed to protect and enhance vision for people who need blood sugar support. DVS has been clinically demonstrated to improve contrast sensitivity, color vision, and low light vision without impacting blood sugar levels.
Many women also start menopause between the ages of 45 and 55. A very common symptom of menopause is occasional dry eye. EyePromise EZ Tears™ is designed to help relieve symptoms of occasional dry eye like redness, watering, irritation, grittiness, burning, itching, and more. In fact, it's guaranteed to bring you relief by the end of your first bottle or your money back!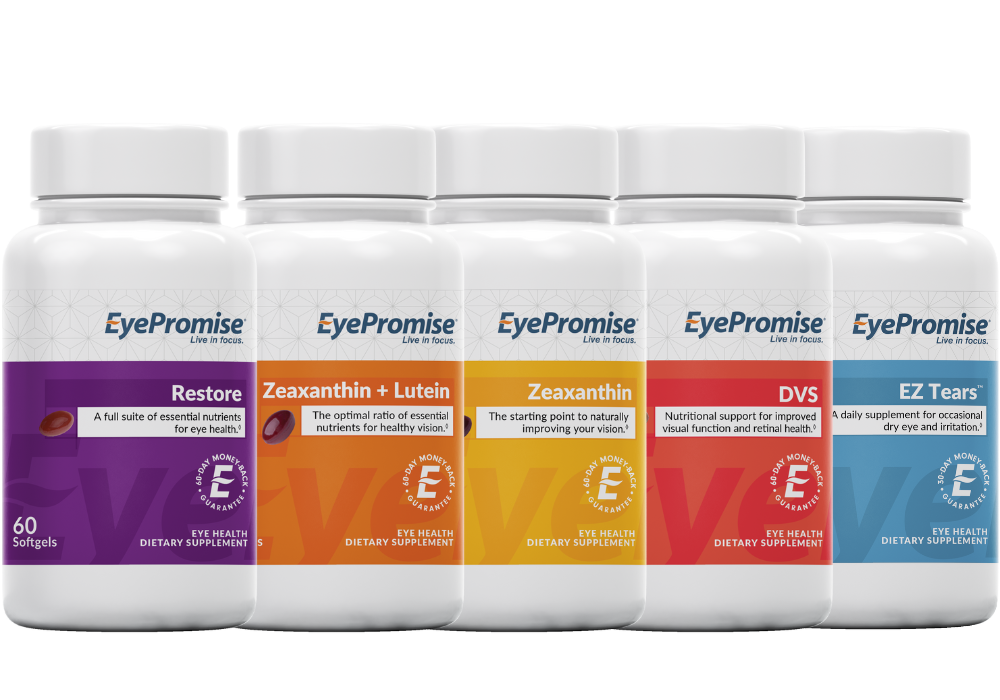 Young Adult
For those young adults just starting out in the workforce, we recommend EyePromise Screen Shield™ Pro. This unique formula was designed to provide maximum protection and support for those who use digital screens for more than 4 hours a day. It's perfect for people who are trying to prove themselves in the office and may work long hours. Also, it's just one softgel a day!
Occasional dry eye isn't just a midlife crisis. Even those who are 25-35 can experience eye discomfort. Therefore, EZ Tears is also a great option for this age group!
College
When we think of college kids, we think of Screen Shield Pro. Its one-a-day formula makes it easy to add to their busy schedules, and its screen-time-focused ingredient list make it ideal for those late-night study sessions.
Athletes
If you have athletes in your family, we recommend our Vizual Edge™ line of performance eye vitamins. They're designed with the right balance of ingredients to maximize visual performance.
Vizual Edge Pro is our most advanced formula, combining the best of the best of EyePromise. Taken by professional athletes like pro golfers Padraig Harrington and Lee Hodges and the Boston Red Sox, Vizual Edge Pro offers benefits like:
Improved visual clarity and sharpness
Improved contrast sensitivity
Reduce light and glare sensitivity
Faster reaction time
Reduced occasional dry eye
Vizual Edge Chewable is a simplified formula but still packs a nutrition punch when it comes to visual performance. With all the same benefits of Vizual Edge Pro minus occasional dry eye relief, this one-a-day chewable tablet is a lot of athletes' go-to for eye health.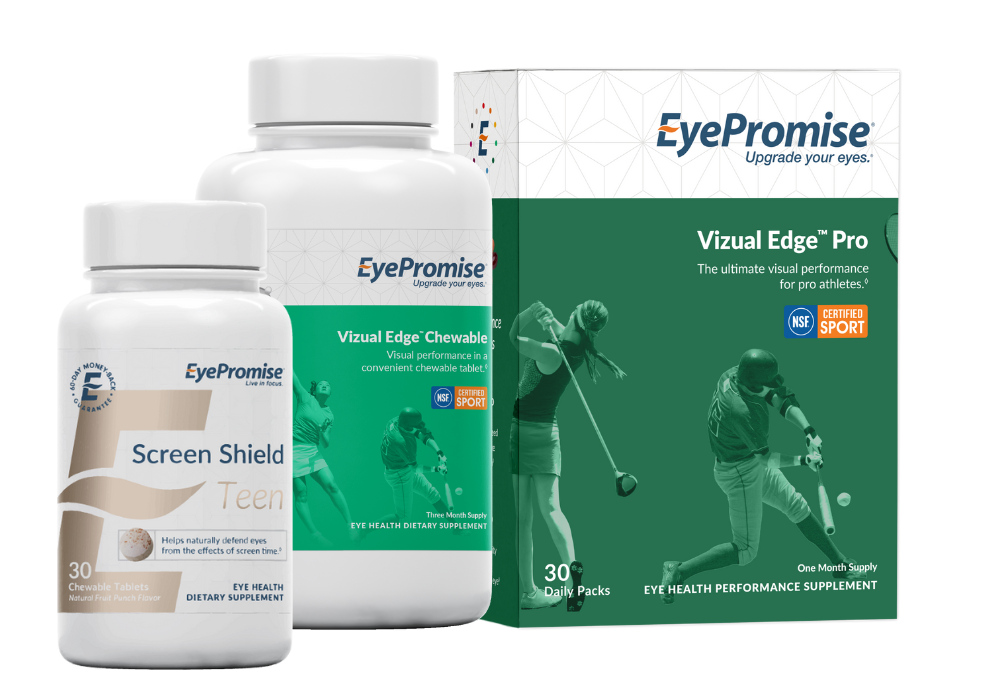 Children
For children ages 4 to 17, we recommend Screen Shield™ Teen. Basically Screen Shield Pro's little sibling, Screen Shield Teen is also designed to help support kids' eyes against screen use. While this was the intention when experts designed the product, it's also a great daily vitamin to make sure your children are getting the amounts of eye-healthy nutrients they need every day.
Our vision is critical to maintaining our lifestyles. Make sure you and your whole family are supporting your eyes with the nutrition they need. Not sure which EyePromise eye vitamin is right for you? Take our product selector quiz!