Helping Athletes See Their Potential
Posted by EyePromise on May 18th 2023
EyePromise® is excited to be attending CPSDA once again this year. Sports dieticians are "registered dietitians (RDs) who specialize in sports dietetics and apply evidence-based nutrition knowledge in exercise and sports." At EyePromise, we love this mission because it's our mission to bring evidence-based nutritional supplements to people and athletes alike. In fact, we love partnering with sports dieticians to help their athletes excel. Here's how we can help.
Evaluation
EyePromise offers RDs a way to measure nutrition specific for visual performance in almost any setting. The new Zx Pro™ macular pigment optical density (MPOD) measurement device performs a fast, direct measurement of critical antioxidants in the eye responsible for enhanced visual performance. These dietary nutrients are called zeaxanthin and lutein, and together, they create a protective pigment deep in the eye that, when healthy, offers the following performance benefits:
The Zx Pro gives you a number to associate with MPOD and visual performance. Its portable, intuitive design makes it easy to use in almost any athletic setting, and its technology is clinically proven and trusted by healthcare and research professionals.
Improvement
So, you've got an MPOD score. Now what? MPOD is heavily influenced by nutrition. As we mentioned, MPOD is made up of two dietary nutrients called zeaxanthin and lutein. While these antioxidants are found in leafy greens and brightly colored fruits and vegetables, getting the amounts the eyes need to realize performance benefits is easier said than done. In fact, you would need to eat 50+ ears of corn a day! That's where EyePromise can help!
EyePromise Performance Supplements
The EyePromise Vizual Edge™ line of eye health supplements are clinically proven to support and enhance visual performance. Made with high-quality, natural ingredients, these formulas are NSF Certified for Sport®, ensuring that what's on the label is what's in each dose, nothing more and nothing less. They also provide levels of dietary zeaxanthin and lutein that match the eye's natural ratio and increase MPOD scores. In fact, it's guaranteed!
Perhaps the most important feature of the Vizual Edge line is that they're evidence based. Each were studied in A Double-Blind, Placebo-Controlled Study on the Effects of Lutein and Zeaxanthin on Neural Processing Speed and Efficiency, where the results showed:
14% improvement in contrast sensitivity
10% improvement in reaction time
20% increase in MPOD
But that's not the only clinical trial featuring the Vizual Edge product or one of the feature ingredients. Here's a summary of all the data supporting EyePromise for visual performance. We keep talking about the Vizual Edge products, so let's tell you a bit about each of them.
Vizual Edge Pro is the most elite eye health supplement on the market. It's the best of the best, delivering all the nutrients your eyes need to help them (and you) reach their fullest potential. Vizual Edge Pro softgels also come in daily convenience packs, making them easy to take on the go.
Vizual Edge Chewable is the other product in the performance line. While it's a simplified formula compared to Vizual Edge Pro, its one-a-day chewable tablet still delivers the ingredients needed to see results. It also comes in 30- and 90-day bottles, making it easy for you to fit into your schedule!
Convenience
Now you know it works, but how do you get EyePromise Vizual Edge for yourself? You can get it online at eyepromise.com, but there's a better, more convenient way to get your supply. It's called the EyePromise Auto Refill Program (ARP). The ARP delivers EyePromise supplements automatically every three months, timed with when you need it. No need to set a calendar reminder to reorder every month!
Additionally, the ARP saves you money with every shipment, and you never pay for shipping. Finally, this program allows you to pause, delay, or cancel at any time. Let's say you forgot to take a few doses and need to push back your next shipment. Simply delay to a date that works better for you. You're traveling and are unsure when you'll be back to pick up your next three-month supply? Pause it until you're settled or change the shipping address!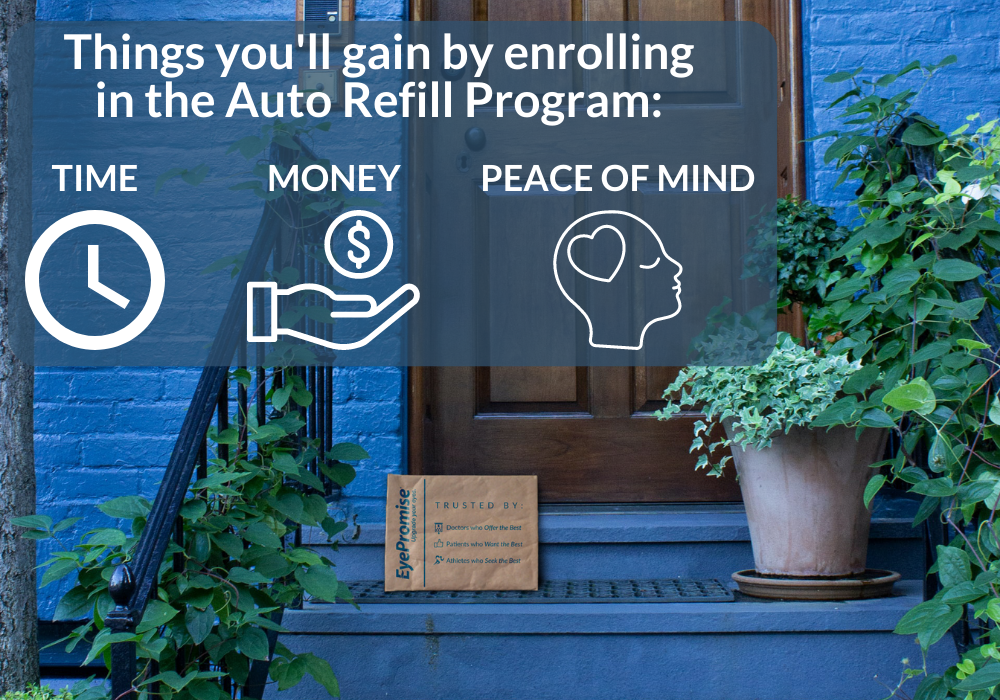 When it comes to competing, athletes are always looking to gain an edge. With the EyePromise system, you can give them one. Learn more at CSPDA or by contacting Shane Gierhart at sgierhart@eyepromise.com.