EyePromise® Partners With Family Golf and Learning Center
Posted by EyePromise on Mar 14th 2023
#1 Eye Doctor Recommended Eye Vitamins Partners With Respected Golf Training Center In Local St. Louis Market
EyePromise®, the industry leading line of eye vitamins formulated to help preserve, support, and improve vision and eye health, has just announced another major partnership in the golf industry, this time much closer to home. Family Golf and Learning Center in St. Louis, MO, chose to bring in EyePromise Vizual Edge™ Pro for its patrons and students, now available for purchase through the training room and their teaching pros.
Adam Betz, Founder of Family Golf and Learning Center, said,
"EyePromise gives our FGLC family another means to improve their golf game. We're excited to bring such a revolutionary concept and product to our teaching pros and their students."
EyePromise In Golf
EyePromise Vizual Edge™ Pro has been making waves in the golf industry the last few years. Golf greats like Padraig Harrington and Colin Montgomerie and new-comer Lee Hodges are using Vizual Edge Pro to help improve their putting performance through an increase in macular pigment optical density (MPOD). MPOD helps to improve visual performance indicators like contrast sensitivity (green reading), glare and light sensitivity, and overall visual sharpness.
Gary D'Amato, writer for Wisconsin.Golf, explained, "Macular pigment protects your eyes by absorbing damaging blue light from the sun and also from LED screens, computer monitors, tablets and phones. It functions like the eye's own internal sunglasses. The thicker or denser this filter, the better the protection." Family Golf and Learning Center will be hosting EyePromise for a MPOD demonstration day on March 15th to give patrons and students the opportunity to learn about eye health nutrition, have their MPOD measured, and receive discounted EyePromise Vizual Edge Pro.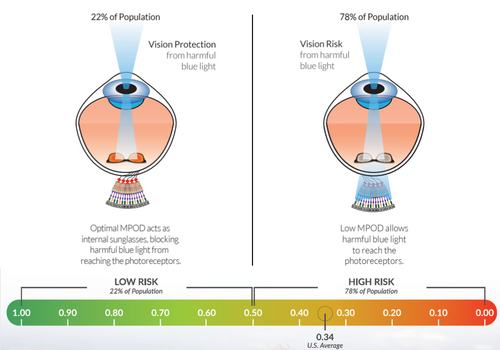 EyePromise On Their New Partnership
EyePromise is equally as excited as Betz about the partnership, as President Andreas Wolf shared,
"Family Golf and Learning Center's mission aligns with ours – we want everyone to play their best golf. Seeing better allows you to play better. The teaching pros can help hone golfers' skills, and we can help upgrade their eyes. It's a win-win-win, and they're in our hometown!"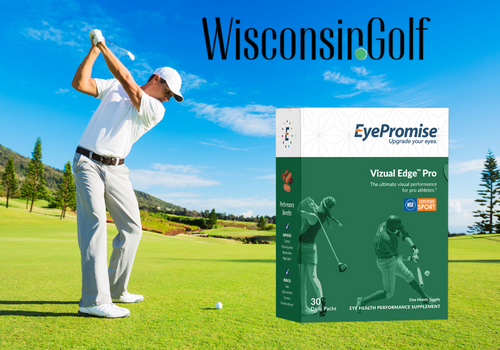 Since 2001, EyePromise, the ocular nutrition pioneer, has been providing athletes, doctors, and the everyday individual with natural eye vitamins to help maintain and support better vision against age-related eye health issues, irritated dry eyes, and even the effects of screen time. EyePromise is NSF Contents Tested and Certified, and its Vizual Edge™ line is NSF Certified for Sport ® and specifically formulated to meet the needs of high-performance athletes. The science behind the supplements demonstrates that eye-friendly nutrients such as zeaxanthin and lutein work together to build the macular pigment, a protective layer within the eyes that's responsible for crisp, clear vision and overall eye health.
As EyePromise looks to continue their growth in golf, teaching pros may request complimentary samples by contacting sgierhart@eyepromise.com. Read more athlete testimonials and learn more about how eye health improves sports performance here.